It's everybody's worst nightmare – a fire raging through your apartment block, with no room to escape.
Such fears are not unfounded. In June 2017 horror images of a devastating fire in the Grenfell Tower in London shocked the world. 72 residents of the Tower were killed in that blaze. Earlier that same year the Plasco Building in Tehran, Iran collapsed during a fire that took the lives of 20 firefighters.
Closer to home, significant damage was caused to Melbourne's Lacrosse tower in Docklands after a fire tore through the building in November 2014. Fortunately none of the 400 residents were hurt. 1
While fire is a threat to any built structure, an uncontrolled blaze in a residential high-rise building is particularly devastating due to the high risk of injury or death and damage to personal property.
Minimising the damage
There are countless ways a fire can start in a building. It was found that the cause of the Grenfell fire was an electrical fault in a refrigerator, and electrical issues were also found to be the culprit in the Plasco building. A burning cigarette left on a balcony was established as the source of the Lacrosse fire.
Building codes and regulations cannot keep fires from starting in buildings, but it can help to minimise the damage from fire once it's started by enforcing various strategies, including the design of the building, materials used and other specifications.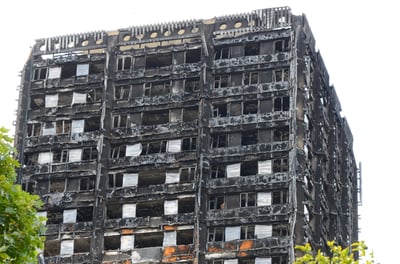 The issue of combustible cladding has for instance been in the news since the Grenfell fire after it was found that combustible materials in the façade were the primary cause of the quick spread of the fire.
Combustible cladding was also blamed for the quick spread of the Lacrosse fire. In Australia, new laws were introduced and building codes were updated as a result.
Fire protection is not only focused on stopping the spread of flames, but also smoke and dangerous gases. The main purpose of all fire protection strategies is to slow down the spread of these elements and allow rescue services to do their job and residents to evacuate safely.
The BCA and the NCC
The Building Code of Australia (BCA) has specific provisions relevant to fire safety systems and elements used in residential high-rise buildings.
A Class 1a building is a single dwelling such as a detached house, or one or more attached dwellings, each being a building, separated by a fire-resisting wall, including a row house, terrace house, town house or villa unit.
A Class 1b building is a boarding house, guest house, hostel etc. with a total area of all floors not exceeding 300m2, and where not more than 12 reside, and is not located above or below another dwelling or another Class of building other than a private garage.
Classes 2 and 3 relate to residential high-rise buildings.
Class 2 - a building containing two or more sole-occupancy units with each being a separate dwelling. (E.g. flats and apartments).
Class 3 - A residential building, other than a Class 1 or 2 building, which is a common place of long term or transient living for a number of unrelated persons. Examples include boarding houses, hostels, backpackers' accommodation, hotels, motels, schools and detention centres.
Three types of construction
The Code also differentiates between three types of construction, namely A, B and C.
These construction types are not to be confused with the building classes. Construction types refer to level of fire resistance particular elements of the building must achieve, with Type A being the most fire resistant. High-rise buildings are classified as Type A because they are considered high risk.
According to the Australian Building Codes Board a new building constructed in Australia, built in accordance with the NCC (National Construction Code), provides extremely high levels of fire safety.2 The NCC is comprised of the Building Code of Australia (BCA), Volumes One and Two; and the Plumbing Code of Australia (PCA), Volume Three.
Unfortunately compliance to the codes and regulations remains a problem: A 2019 study into building defects by Deakin University's Dr Nicole Johnston revealed that fire protection is the cause of the second biggest number of defects in Australian apartment buildings.3
Active and passive fire protection
There are two basic strategies to achieving a building fire safety system: Passive and active fire protection.
Active fire protection is the more visible one. It includes sprinkler systems and fire extinguishers, smoke and heat vents, exit signs and intercom systems for emergency purposes.
Passive fire protection is embedded in the structure of the building and involves the walls and floors separating individual apartments or sole occupancy units (SOU's) from adjoining units.
An important part of a passive fire protection strategy is compartmentation. Compartmentation means that fire resistance barriers are constructed inside the building to prevent fire from spreading uncontrolled.
Fire barriers, firewalls, fire partitions, and smoke barriers are all part of compartmentation. These compartments are built to be structurally stable during a fire to allow residents to get out, even when other parts of the building start collapsing.
All passive fire protection components are required to be fire rated and the required fire ratings are known as FRLs (Fire Resistance Levels) in Australian building codes.
In terms of the BCA, non-loadbearing walls between residential units in high-rise buildings must resist fire for 60 minutes.
Find out more about FRLs in our blog How to select a fire-rated wall or ceiling
Penetrations
The concept of compartmentation is simple, but in reality there are many ways in which the safety of a fire barrier can be compromised.
These include openings (such as doors) or openings created for the installation of services such as pipes, ducts, electrical sockets, etc. To maintain the integrity of the fire barrier it is important that fire-rated doors, glass, frames etc. are used.
All other penetrations should be sealed by fire-stopping techniques, utilizing fire resistant materials and sealants. If left untreated, these penetrations can create a route for smoke, flames and gases to escape through the fire barrier.
Siniat interhome high-rise system
Siniat's Interhome high-rise system has been designed to meet the requirements of inter-tenancy walls in Class 2 & 3 high-rise projects.

The Interhome high-rise system consists of a central fire barrier for use in slab-to-slab or slab-to-soffit construction. The central fire barrier incorporates 25mm shaftliner combined with 16mm fireshield, which is required in some locations.
One of the big advantages of the Interhome system is that services can be installed behind the internal wall lining without the need to penetrate the central fire barrier. Shaftliner is a 25 mm plasterboard with excellent fire resistant properties. It is much lighter in weight than cement or concrete based central fire barriers and safe to work with due to a very low silica content.
Click here to find out more about the Siniat Interhome high-rise system.
References:
Lacrosse apartment owners awarded $5.7 million in damages after flammable cladding blaze

, ABC News, 2019-02-28

Fire Safety in High Rise Buildings

, ABCB, 2017-07-31

Deakin report analyses growing number of apartment building defects

, Deakin University Media Release, 2019-06-19