1. It's been around for more than a century
Plasterboard was manufactured in the UK as early as the mid-nineteenth century, according to the veteran Australia plasterer and plastering teacher Mark Goodchild. The first plasterboard was imported into Australia in the 1890s and used in the construction of a North Sydney cottage, but it was only properly introduced to the local market in the 1940s.
It was not until the 1960s that it became common in use in Australia however. Initially it was hard to convince tradesmen that gypsum sandwiched between two layers of paper can be strong enough to use in mainstream construction, but they were soon won over by the ease of plasterboard installation!
At Siniat we are proud to have been part of the plasterboard journey from the early days. Siniat is one of the flagship commercial brands of the Belgium based Etex Group. Etex started its own drywall initiative in 1957, but the true breakthrough came in 2011, when Etex gradually acquired Lafarge plasterboard activities in Europe, Latin America, and Africa and rebranded them Siniat. Read more about the Siniat story here.
Siniat Australia was established after the purchase of the Knauf Australia plasterboard and metal business by the Etex Group in 2021.
2. Plasterboard is fire resistant
Plasterboard is relatively fire resistant. The gypsum (CaSO4.2H2O) between the two layers of paper is not a flammable substance by itself, and it contains a small amount of crystalline water. When exposed to fire, the water will vaporise first – almost like a built-in sprinkler system! The gypsum will only catch fire at very high temperatures. Read more about this process here.
The Fire Resistance Level (FRL) of plasterboard refers to its ability to withstand a fire under test conditions for a certain period of time as required by the BCA, and consists of three criteria:
Structural adequacy (The ability to maintain stability and the required adequate load bearing capacity)

Integrity (The ability to resist the passage of flames and hot gases)

Insulation (The ability to maintain the required temperature over the whole of the unexposed surface)
Thanks to modern manufacturing techniques, strengthening material in the plasterboard core can provide extra support for structural adequacy during a fire. Products such as Siniat fireshield have a high fire resistance to meet the BCA requirements.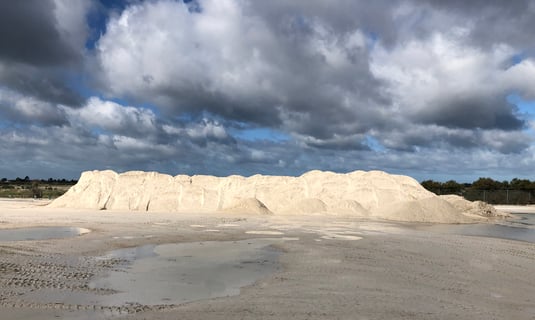 3. The gypsum in plasterboard is a versatile mineral
The scientific name for the gypsum found in plasterboard is calcium sulfate hydrate. It is a naturally occurring mineral found in layers of sedimentary rock all over the world. It is used in a wide array of everyday products, including toothpaste and shampoo.
Also known as Plaster of Paris, the gypsum is crushed and heated to remove 75% of its water content. This creates a fine, white powder that can easily be moulded into any shape when water is added back to it. When it dries, the shape is retained. Besides its use in plasterboard manufacturing, it is also used to make sculptures, pottery or casts for broken bones. It was even used to create fake snowstorms in the early Hollywood movies!
4. Plasterboard is known by many names
Plasterboard is used in construction all over the world, but it's called by different names – gyprock, drywall, gypsum board, wallboard, sheetrock and a few more. In New Zealand it is commonly referred to as Gibraltar board, or Gib board for short. This is due to the brand name given to the product by the Winestone Wallboard Company, who in 1931 started manufacturing Gibraltar Board, named after the Rock of Gibraltar in the UK.
5. Plasterboard can be recycled
Plasterboard is 100% recyclable building material. It can be recycled into new plasterboard or soil conditioner which is used for farming and rehabilitation of mine sites.
Gypsum acts as a natural fertiliser, it improves the soil structure and aids water absorption. It also stimulates plant growth.
Siniat uses only recycled paper in its plasterboard manufacturing plants in Altona (VIC), Matraville (NSW) and Bundaberg (QLD). We also recycle any waste gypsum back in to the production process. Waste plasterboard is also used to manufacture gluts, the only packaging used for storing and transporting plasterboard.
To find out more about Siniat's wide range of plasterboard products, download our Product Catalogue.