Restaurateurs are increasingly feeling the pressure to be "Insta-worthy", but with all the focus on visual design elements, the importance of good acoustics is often forgotten.
Tweet it before you eat it
The latest influencing factor of restaurant design is not how we eat, meet or socialise. It is also not the latest fashion trend or economic considerations. When it comes to attracting happy customers, restaurateurs know that they need to create spaces that are not just memorable, but Instagrammable.
According to a recent study, 69 per cent of millennials photograph their food and post it on social media before eating it.
Modern restaurateurs are cashing in on this fad by creating spaces (and food!) that will earn the maximum number of mentions, geotags, hashtags and photos. Many travel platforms such as Tripadvisor also provide guides to where travelling foodies can go to wow their followers with amazing posts.
The power of Instagram in particular is well worth embracing. Research shows that 30% of 18 to 35 year olds actively avoid restaurants with a weak Instagram presence. It's no longer only word of mouth that leads to busy tables, it's how often the restaurant is mentioned on this social media channel.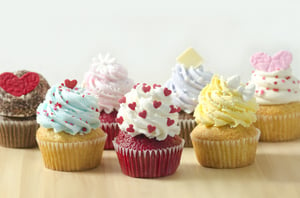 Brightly coloured, over-the-top food is the staple of Insta-foodies and this has changed what is on offer. More menus now include "unicorn food" – glittering, colourful treats that look great on photos.
In terms of décor and design, the focus has changed too. Downlights are making way for bright overhead lights because nobody wants an underexposed photograph. Many restaurateurs opt for a minimalistic design to make the food "pop" on the photos, while others invest in colourful murals, artwork or unique floor tiles and other features to create a distinctive look in the hope that it might become a popular backdrop.
The Instagram shift
It's true that restaurant owners have always wanted their restaurants to look good and unique, but before the age of social media designers concerned themselves primarily with the space's effect on patrons.
Fifteen years ago it would have been unthinkable for diners to photograph every course and drink before consuming it, and "old school" designers never had to consider photogenicity as an important design factor. For them it was more important to create an atmosphere that reflected the food on offer – fast and funky, or cozy and intimate.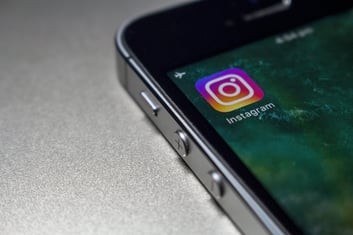 But now that perfect social media posts have become the Holy Grail for restaurant owners, things have changed.
But, we also want good acoustics …
With all this emphasis on photogenicity, restaurateurs might overlook another important factor that customers are increasingly becoming more aware of: acoustics.
Noise might not have a negative effect on a good photograph, but bad restaurant acoustics have a detrimental effect on our sense of taste and the overall enjoyment of an evening out.
Designers and architects have long known this, and customers are beginning to realise it too. In 2018 a survey initiated by the US restaurant review platform Zagat showed that restaurant noise has become customers' most common complaint, outweighing bad service and high prices for the first time.
This has even led to the development of an American app, Soundprint that allows diners to rate and submit noise levels at local restaurants using their smartphone's internal microphone. The app received 25,000 submissions in the first month after its 2018 launch.
There are many reasons for deteriorating acoustic conditions in restaurants, including open-plan kitchen design (an Instagram favourite), loud music and a preference for minimalistic designs (another Instagram favourite) that favour hard surfaces instead of sound-absorbing curtains, tablecloths and carpets.
Pitch or picture perfect?
So, is it better to look good or sound good?
According to what customers are saying, you really need to have it all. An ideal restaurant should have plenty of Instagramming possibilities, provide acoustic comfort and, let's not forget, an amazing menu.
With modern technologies such as Uber Eats, diners no longer need to go to restaurants if they don't feel like cooking. More people now order in and enjoy the comfort of eating prepared food at home. If restaurateurs don't want empty tables, they need to turn their establishments into destinations worth leaving home for.
According to Deloitte, "the ability [of restaurants] to deliver consistently engaging, memorable experiences that drive a connection to the brand at every touchpoint is more critical than ever".
Look good and sound good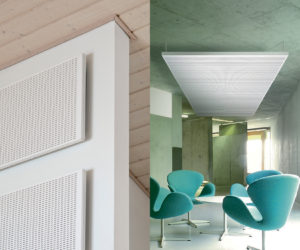 Knauf recently introduced two out-of-the-box acoustic solutions designed to be hung either on the wall or from the ceiling. Cleaneo Adit and Cleaneo Up are highly absorbent acoustic panels make it quick and easy to improve the sound of indoor spaces and comply with the acoustic standards and regulations for different environments, while enhancing the space with visual design highlights.
They come pre-finished in white and can be placed unobtrusively in a restaurant. They are however paintable and printable, and can become a striking feature for memorable Instagram photos.
One of the best features of Cleaneo Up and Cleaneo Adit is that they are suitable for new buildings and renovation projects. This makes them highly cost effective for rented spaces such as restaurants because they do not require specialist installation and can easily be taken down and relocated.
Win these products! Knauf Australia is currently running a competition in which we are giving away Cleaneo Up and Cleaneo Adit panels. The competition closes on 30 August 2019. More info here.
To read more about restaurant acoustics, download our e-book, Acoustic Design for Restaurants, here.
For more information on Knauf's acoustic solutions, contact us online, or call us on 1300 724 505.