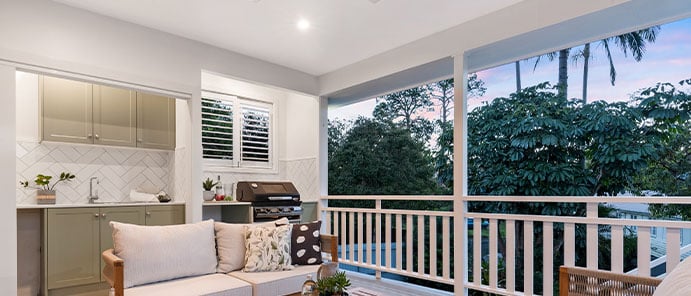 Australians love spending time outdoors and the alfresco area has become almost standard in most modern homes.
Plasterboard is increasingly being used for the ceiling of the alfresco area, and it is easy to understand why. A plasterboard ceiling and cornice visually connects the outdoor area with the rest of the house and enhances the alfresco space.
Ceiling fans, downlights and even speakers are often attached to external ceilings, and a plasterboard ceiling provides a stylish backdrop.
Plasterboard is also being used in the ceilings of carports, balconies, breezeways and other external areas. (Please note that plasterboard must not be installed in eaves or as exterior cladding.)
The external ceiling is however always exposed to the natural elements, and with higher exposure comes higher risk. The results of a failing external ceiling are not only unsightly, but can be very costly and even life-threatening.
In 2017 a Perth family woke up to a crashing noise when the ceiling in their al fresco area, their toddler's favourite playing area, collapsed without any prior signs of damage.
To guarantee long-term enjoyment of the outdoor area, it is important to install the external plasterboard ceiling correctly from the start and to strictly adhere to manufacturer's instructions.
Common problems
External ceilings are subject to harsher conditions than internal ones, and need additional protection from the weather. Common problems that can occur on external ceilings include:
Condensation on the plasterboard
Condensation on framing or roofing and dripping down on to the plasterboard
Water penetrating the paint system
Distortion of the joints
Plasterboard sagging
Mould growth
Fastener popping
Minimum conditions
Siniat recommends the following minimum conditions when using plasterboard in external ceilings:
The plasterboard substrate must be designed for the appropriate loading conditions, including wind loading.

Down-struts must be included for suspended ceilings to prevent uplift.

The cavity above the plasterboard ceiling must have adequate ventilation.

Bear in mind that continuous air-flow in and out of a ceiling cavity near salt water may decrease the durability of steel framing.

Sarking and thermal insulation must be used to improve temperature control, reduce wind pressure and control condensation.

In particular, foil backed insulation must be used under a metal roof.

The plasterboard and plaster compounds must not be subjected to any direct water, long periods of high humidity, sea spray or damp conditions.
The plasterboard and plaster compounds must be installed after the roof covering has been completely installed and sealed.

Fix the ceiling plasterboard using the 'screw only method'. Nails are not permitted in this application. Additional screws may be required for high wind areas.

Screws

used must be minimum Class 3 or higher depending on the application, or protected from corrosion by other means. Please note that stainless steel fasteners are not permitted with galvanised or Zincalume protected steel.

A minimum clearance of 100mm from the external ceiling lining to the lower edge of verandah beam or masonry lintel is required, otherwise protection against wind-blown rain needs to be provided.
Siniat recommends using any of the following plasterboard products for external ceilings: 10mm Spanshield, 13mm Mastashield, 10 mm Opal and 13mm or 16mm Fireshield. For improved water resistance 13mm Watershield or 13mm or 16mm TruRock can be considered. For premium mould resistance, use Trurock HD.

Ceiling framing should be at a maximum 450mm framing centres. Please refer to the Maximum Screw Spacing for External Ceilings Table below for correct frame and screw spacing information. Back-block all plasterboard joints.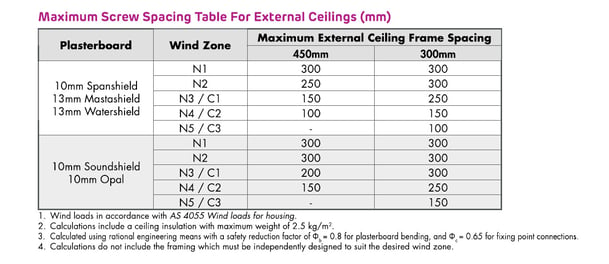 Fix the perimeter of the plasterboard sheets using screws at 300mm maximum spacing and install control joints at 6m maximum intervals.
Painting
The long-term success of any external ceiling also depends on using the recommended paint system. Improper paint products or techniques can impact negatively on the appearance and performance of the external ceiling and contribute to issues such as sagging ceilings, joint discolouration and mould growth.
Paint on external surfaces also needs to withstand more regular and vigorous cleaning than internal surfaces because of cobwebs, soot, dust, moth eggs, etc.
Siniat recommends rolling or brushing on a high quality sealer undercoat designed for exterior use. Use a premium exterior paint system that includes a mould inhibitor.
More information
For more information, please refer to Chapter 5 (Ceilings) of the Siniat Blueprint, or download the Plasterboard Installation Guide.